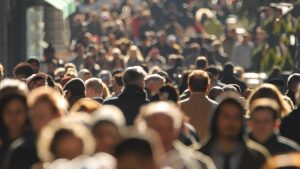 With many restrictions lifted, volunteers are beginning to return. As a Christian leader, what should you expect? And how should you deal with it?
1). EXPECT A MAD BREAKOUT! 
Air traffic increased by 500% on Memorial Day weekend. There is a mad rush to travel, to take a break. Picture a wild crowd crashing a Beatles' concert or fans flooding a stadium for a big football game. Volunteers have been isolated, locked up for over a year. It's time for a breakout!! Who can blame them?
At least in the US, volunteer activity follows a cycle. January 10-to May 15 represents a highly active period, when volunteers make progress, stay in touch, and are more available. Traditionally volunteer response wanes from May 15-August 15 as holidays, vacations, weddings, and graduations take place. However, this year expect that response time to slacken much more. Don't be surprised if normally faithful volunteers don't even respond. That is not a sign of disinterest in your mission, but an indicator of a volunteer's need for personal restoration.
WHAT TO DO?
Lowering expectations and extending considerable amounts of grace, will go a long way in making sure volunteers know they are valued for who they are more than what they can give. Expecting them to follow normal protocols with precision could backfire. We all need a break. Eventually they will come back. Yet at the same time try your best not to lose touch. Keep contacting volunteers; encourage them, assuaging any guilt or shame they might have for not being able to serve. And try your best not to let your need for a break, cause you to be negligent in losing track of key volunteers. You may not get them back.
2). EXPECT A DIVIDED HOUSE.
Airlines aren't alone in dealing with serious confrontations. The other day while driving, I found myself so angry, I was ready to throw down when a guy honked at me for a mistake another driver made. I haven't felt that angryin years. Why was I so angry? The tumultuous election, racial tension, and disagreement about mask-wearing has polarized the body of Christ, igniting people's passion. Many conversations I've had with friends have turned heated as we found ourselves on opposing sides of many issues. You can expect the same as volunteers re-unite; many will be divided.
WHAT TO DO?
Re-entry re-training. Consider developing a module for all those re-entering the volunteer force. Identify, remind volunteers of the common ground we share: the statement of faith, the mission, the purpose, the programmatic essentials. Encourage them to avoid divisive subjects. Show them how being divisive will ultimately hurt the people we are trying to serve. Consider I Corinthians 1:1-10. Recently our church produced a t-shirt I love: see below.
3). Expect an almost desperate need to connect.
Given the enormous loss of effective ministry time and reduced productivity during the pandemic, it's easy to understand why a leader may be tempted to "get down to business". However, the increased stress and anxiety created by isolation, requires increased connection, not less. Expect many volunteers will want to talk longer about their lives and non-ministry issues. Now is not the time to "press" harder.
What do to?
First ask yourself, how desperately do I need someone to listen to me? Under normal circumstances, the simple practice of loving and listening to our volunteers strengthens relationships, builds team unity and increases effectiveness. Increase connection time at the start of one to ones and team meetings. Recently I've had to rehab a shoulder injury. After 12 weeks, my range of motion went from about 50% to 95%. Each week I experienced only a slight increase. Think of volunteer re-entry like rehab, steady and incremental. Know that few things are more necessary than loving relationships. Over time the productivity side of our meetings will return but rushing it, may mean a setback.
4). Expect to deal with trauma victims.
In a very real way, we've all experienced a trauma. For the longest time, I was too quick to judge trauma patients, unaware of the real physiological reactions created by trauma. Through a personal tragedy, I learned much about PTSD and its impact. One of the consequences of PTSD is that the brain's social capacity is compromised. While it may appear that a PTSD victim is being antisocial, they are not able to function socially and have poor self-awareness. When you couple that with the isolation, we've all experienced, expect that the social skills of your volunteers have been compromised.
What to do?
The good news is that social re-entry is good therapy for this condition, but it can take some time. It may seem remedial, but volunteers may need to re-learn the importance of some basics like filtering comments, not interrupting, or the importance of simply being kind. This may require gentle yet direct reminders. Encourage patience with each other. Be sure to make listening a high priority. James 1:19 may help.
5). Expect a need for clarity.
Masks/No Masks. To say mask-wearing and the issues around it has been clunky is an understatement. While many government restrictions are being lifted, each organization or church must decide for themselves and set their own re-entry policies and procedures regarding distancing, masks, and vaccinations.
What to do?
More important than the policy is the rationale behind the rule. Make sure your rationale statement explains how you have prayed and wrestled with your decision (if true). For example, "As a leadership team, we have agonized over these difficult decisions." Also make sure to identify the pain that your decision may hold for those that may disagree with your decision. For instance, "We know that for some of you, our approach is not what you had hoped for and may hinder your ability to volunteer with us at this time. We fully respect that each person must make the choice that they feel is safest for them and we look forward to the day where you can join us again."
6).Expect you may need some oxygen.
It's impossible to pour into others, to create an environment for re-entry if my relationship with God is not strong enough to empower or sustain my coaching or shepherding. I can only love my team of volunteers as I love myself.
What to do?
Do an honest self-check.  Are you fatigued? Do you need a break? Do you need to get back to an exercise routine? Do you need someone to listen to you? Do you need to schedule time with friends? How's your direct Jesus' time? Maybe you would benefit by establishing a rehab plan for yourself including incremental steps to health. Your plan might include: spiritual, mental, physical, relational, social, financial. Outline some incremental steps for areas that lack.
Lastly, as a key presenter for an Int'l organization's annual conference, I enjoyed an intimate dinner with the CEO and a couple of other key presenters on the eve of the meeting. Another presenter espoused a position that I felt was not supported by Scripture. I thwarted his positions one by one as if I were knocking down targets on a firing range. Later I was bothered by the exchange, not so much by the position I held, but by my posture. So I repented. Recently I was reading through the Passion week, when I came across the part where Jesus was arrested and where Peter cut off the ear of Malchus, the servant of the high priest. Jesus words hit me, Put your sword back in its place (John 18:9,10). Now is a time for us to put down our swords of contention and a need to be right and elevate the only solution we all have in common: the cross of Jesus Christ.
by Al Newell
© Newell and Associates 2021